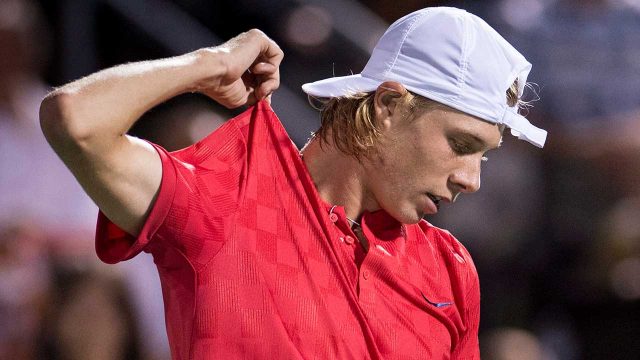 MONTREAL — Denis Shapovalov did not go gently into that good night.
The 18-year-old Richmond Hill, Ont., native, who came into the Rogers Cup as the 143rd ranked player in the world and vaulted his way up to No. 67 this week with wins over Rogerio Dutra Silva, Juan Martin del Potro, top-seed Rafael Nadal and Frenchman Adrian Mannarino, gave Germany's Alexander Zverev a run for his money on Saturday.
But ultimately Shapovalov failed to become the youngest player in history to reach the final of a Masters 1000 event.
After he sailed a looping backhand into the doubles alley to drop the match 6-4, 7-5, he took to the border of centre court and put things in perspective in an interview with Sportsnet's Arash Madani.
"It was an unbelievable week for me," Shapovalov said.
More from Sportsnet
Shapovalov's Rogers Cup run ends with semifinal loss to Zverev
Canadian Press
Wozniacki beats Stephens to reach Rogers Cup women's final
Canadian Press
It was also an unbelievable week for Canadian tennis fans, who rallied behind the blond-haired, blue-eyed wonder as he showed off his free-swinging style against two fierce challengers, two Grand Slam champions and one up-and-coming star in the 20-year-old Zverev — who now has a chance at winning his fifth title of the 2017 season.
This run didn't end as Shapovalov hoped it would, but he can go to sleep knowing hundreds — if not thousands of Canadian kids — will take to their local courts in the coming days, flip their hats backwards, bounce the ball back and forth between their legs before service points, and do everything they can to emulate what they saw this week.
He inspired. He knows …read more
Source:: Sportsnet.ca
(Visited 1 times, 1 visits today)