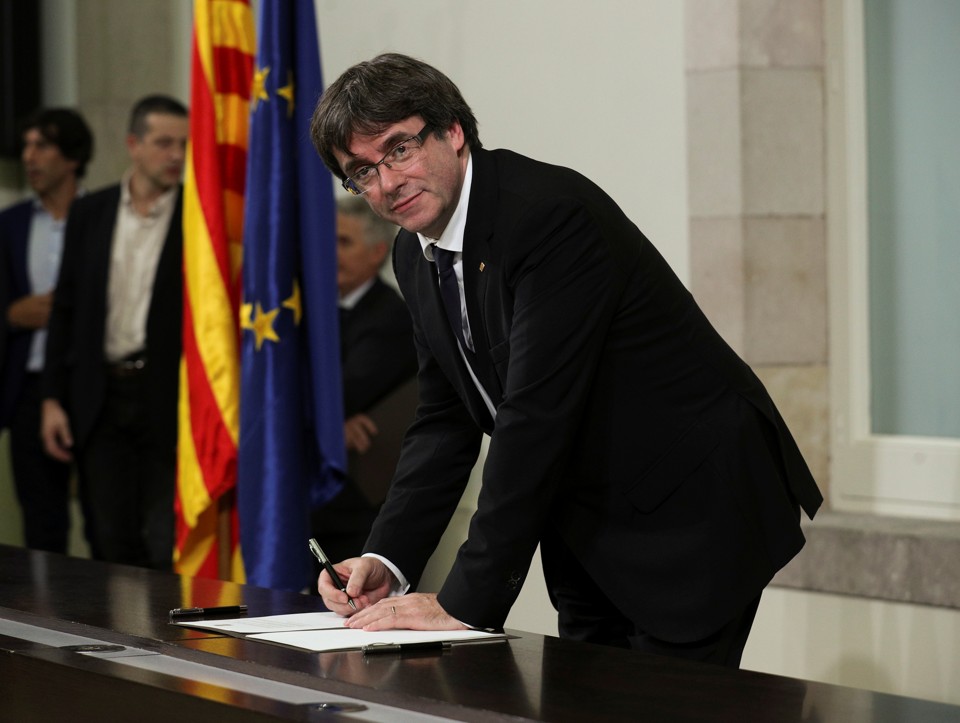 Catalonia has its own language, its own identity, and a culture distinct from that of the rest of Spain. Under Spanish law, it also has its own president, its own parliament, and its own police force. The October 1 referendum in which Catalans voted overwhelmingly for independence from Spain (turnout was 43 percent amid a massive, sometimes violent crackdown by Spanish authorities) was intended to turn this de facto separateness into something more formal. As Madrid watched in dismay, threatening Catalan leaders with arrest or worse, Carles Puigdemont, the Catalan president, signed Tuesday a declaration of independence for Catalonia, but said its implementation would be delayed so "that in the coming weeks we can undertake a dialogue" with the government in Madrid.
Madrid has already made its views on dialogue known. Mariano Rajoy, the Spanish prime minister, rejected talks unless the idea of Catalan independence is first abandoned—a non-starter for the present Catalan government. Madrid has also threatened to disband the Catalan parliament and charge Puigdemont and his political allies with sedition because their actions violate the Spanish constitution. Meawhile, there have been calls for mediation from Kofi Annan, the former UN secretary general, as well as a public plea from Donald Tusk, the president of the European Council, for Puigdemont not to take steps that would make dialogue impossible.
But what would any mediation with the Spanish state achieve for Catalonia, a region that already enjoys broad autonomy? What space is there between independence and the status Catalonia already has?
Peter Ceretti, an analyst for Spain and Portugal at the Economist Intelligence Unit, told me it's highly unlikely there will be any talks between the two sides soon in the first place. "Mariano Rajoy, up to this point, has ceded nothing and has been unwilling to negotiate with the nationalist …read more
Source:: The Atlantic – Best of
(Visited 1 times, 1 visits today)