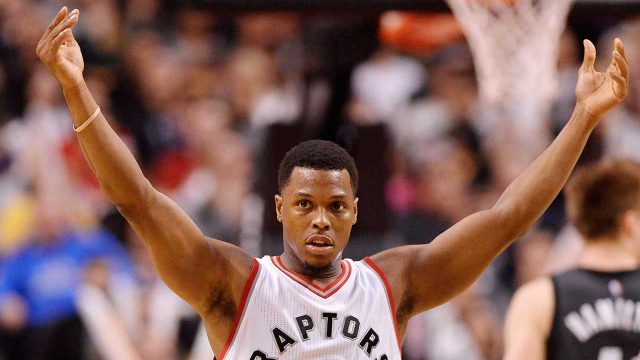 The Toronto Raptors have been notoriously known for getting the short end of the stick.
At least that's the way the Canadian media views their American counterparts' coverage of the team.
Whether it's Kyle Lowry and DeMar DeRozan upset about not playing on Christmas, or Sports Illustrated's annual shun of DeRozan in their player rankings or the fact that the two top and hottest teams in the NBA played last Friday and it wasn't on U.S. national TV, the players see it all.
"They are very aware of it," Raptors head coach Dwane Casey said on Monday's Prime Time Sports. "I think they use it as a motivational tool … but how that game Friday night [was] not on national TV in the U.S., it blows my mind. You got the two top teams in their respective conferences playing — no matter if it's Toronto or Boston or whoever — [and] they're playing on a Friday night."
Casey certainly has a point. The Friday night game against the Houston Rockets become the most-watched Raptors regular season game ever in Canada. So why aren't they getting the same appreciation south of the border?
if ( "1" == true && 'undefined' !== typeof window.getIndexAds ) {
var so = {preroll:{1:{1:{siteID:191888},2:{siteID:191889}}}};
adServerUrl = window.getIndexAds( 'http://pubads.g.doubleclick.net/gampad/ads?sz=640×360&iu=%2F7326%2Fen.sportsnet.web%2FVideo&ciu_szs=300×250&impl=s&gdfp_req=1&env=vp&output=vast&unviewed_position_start=1&ad_rule=1&vid=5748769305001&cmsid=384', so, permalink);
} else {
adServerUrl = "http://pubads.g.doubleclick.net/gampad/ads?sz=640×360&iu=%2F7326%2Fen.sportsnet.web%2FVideo&ciu_szs=300×250&impl=s&gdfp_req=1&env=vp&output=vast&unviewed_position_start=1&ad_rule=1&vid=5748769305001&cmsid=384";
}
$el.after( unescape("%3Cscript src="" + (document.location.protocol == "https:" …read more
Source:: Sportsnet.ca
(Visited 2 times, 1 visits today)