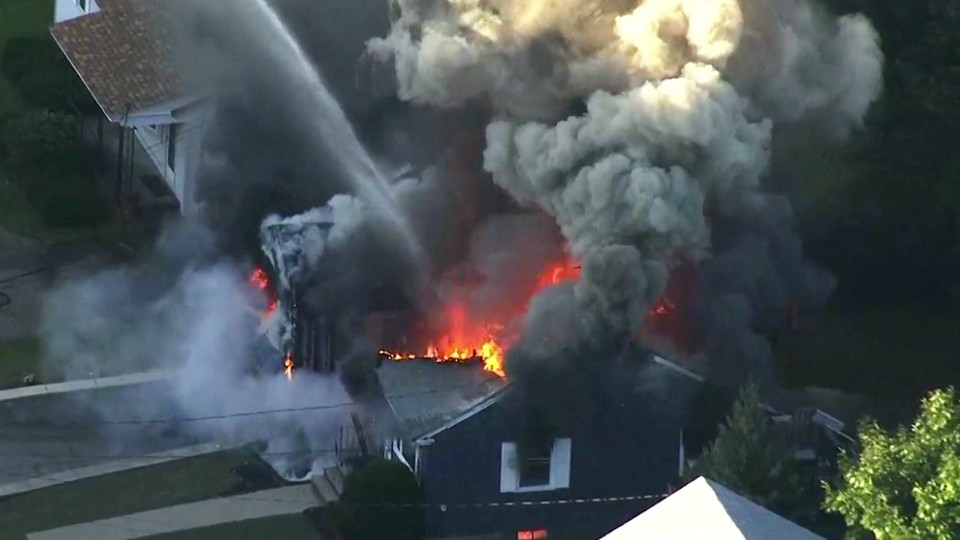 Late Thursday, dozens explosions erupted in three towns in northern Massachusetts. As many as 70 fires, explosions, and suspected gas leaks were reported to state police, with least 39 homes affected in Lawrence, Andover, and North Andover. One person was killed when a chimney collapsed on his car, and at least 25 more people were reportedly treated for injuries.
In a statement, Columbia Gas said that a total of 8,600 customers will be without service until safety teams can ensure that their homes and business are leak-free.
A widespread series of explosions like the one in Massachusetts is "really rare," says Robert Jackson, a professor of energy and environmental science at Stanford University. Jackson's studies focus on the environmental impacts of natural gas, and he has mapped thousands of gas leaks in cities around the country, including Boston. He told me that such an event is "unprecedented in recent years," since explosions are usually isolated to a single building.
Jackson is not involved in investigating the Massachusetts explosions, but he was able to offer some insight into what could have caused such a strange, dramatic incident. The most likely explanation, he says, is the one most reports have speculated: Pipelines in the towns became suddenly over-pressurized. In the same way that high-voltage power lines traverse hundreds of miles before breaking off into lower-voltage tributaries in neighborhoods, natural-gas delivery systems consist of both long-distance, high-pressure pipelines and local ones that are only nominally pressurized and deliver gas into homes. Neighborhood pipelines are usually designed to withstand two to three times their normal operating pressure, but any increase makes gas more likely to escape.
"I can't imagine another explanation for this event than a flush of pressurized gas," Jackson says.
If local lines indeed were suddenly inundated with high-pressure gas, …read more
Source:: The Atlantic – Best of
(Visited 1 times, 1 visits today)