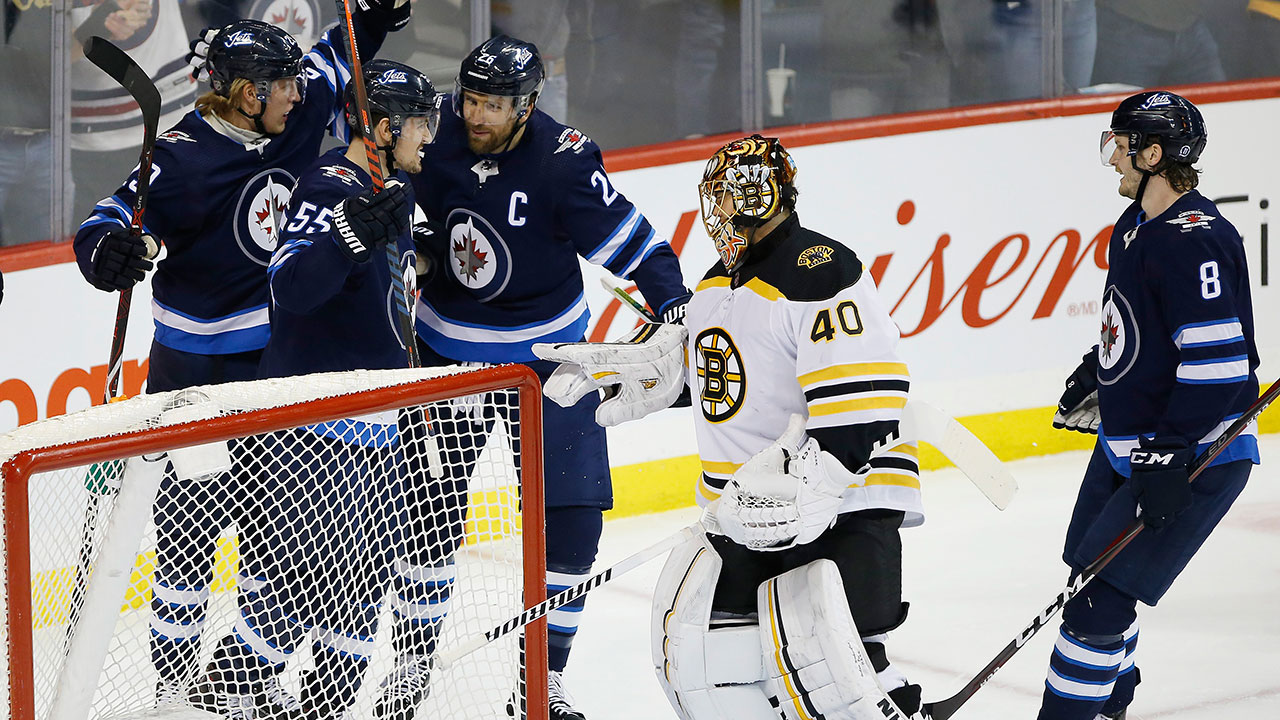 WINNIPEG — Mark Scheifele scored once and added a pair of assists as the Winnipeg Jets handed the Boston Bruins their third straight loss with a 4-3 victory on Thursday.
Nikolaj Ehlers scored the game-winner with seven minutes remaining in the third period after defenceman Jacob Trouba made it 4-2 early in the period.
Charlie Coyle cut Winnipeg's lead to 4-3 with 2:56 left, but the Bruins couldn't tie it up with an extra attacker.
Blake Wheeler had a goal and assist for the Jets (41-25-4) and Patrik Laine contributed two assists.
Charlie McAvoy and Joakim Nordstrom also scored for the Bruins (42-20-9) and David Krejci added two assists.
Connor Hellebuyck made 36 saves for Winnipeg, which moved three points ahead of Nashville for first place in the Central Division.
/*
if ( "1" == true && 'undefined' !== typeof window.getIndexAds ) {
var so = {preroll:{1:{1:{siteID:191888},2:{siteID:191889}}}};
adServerUrl = window.getIndexAds( 'http://pubads.g.doubleclick.net/gampad/ads?sz=640×360&cust_params=domain%3Dsportsnet.ca&iu=%2F7326%2Fen.sportsnet.web%2FVideo&ciu_szs=300×250&impl=s&gdfp_req=1&env=vp&output=vast&unviewed_position_start=1&ad_rule=1&vid=6014130041001&cmsid=384', so, permalink);
} else {
adServerUrl = "http://pubads.g.doubleclick.net/gampad/ads?sz=640×360&cust_params=domain%3Dsportsnet.ca&iu=%2F7326%2Fen.sportsnet.web%2FVideo&ciu_szs=300×250&impl=s&gdfp_req=1&env=vp&output=vast&unviewed_position_start=1&ad_rule=1&vid=6014130041001&cmsid=384";
}
*/
adServerUrl = "http://pubads.g.doubleclick.net/gampad/ads?sz=640×360&cust_params=domain%3Dsportsnet.ca&iu=%2F7326%2Fen.sportsnet.web%2FVideo&ciu_szs=300×250&impl=s&gdfp_req=1&env=vp&output=vast&unviewed_position_start=1&ad_rule=1&vid=6014130041001&cmsid=384";
$el.after( unescape("%3Cscript src="" + (document.location.protocol == "https:" ? "https://sb" : "http://b") + ".scorecardresearch.com/beacon.js" %3E%3C/script%3E") );
Source:: Sportsnet.ca
(Visited 1 times, 1 visits today)