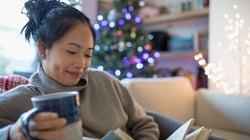 Welcome to HuffPost Canada's (almost) daily guide to helping you pick up an easy, everyday ritual that can make your life a bit better, in a small but significant way.
Canadians are stressed out, anxious, and are feeling disconnected from each other. Every Monday through Friday, we'll share a tiny tip to help you feel good. We've got your back.
Today's habit: Bake
Take The Stress Out Of The Holidays By Saying 'No' More Often
Santa Photo Fails From Babies Just So Over Christmas
It's OK To Say 'No' To Holiday Functions And Not Feel Guilty
3. You'll feel happier
Very few things make us happier than devouring just-baked goods, and science backs up the anecdotal evidence that the act of baking or cooking makes us happier.
A study published in the Journal of Positive Psychology found that people who do small, creative acts regularly, such as baking and cooking, :
Christmas cookie recipes
Christmas dessert recipes that will make you the star of the party
Trying a new recipe can make you more mindful about …read more
Source:: The Huffington Post – Canada Music
(Visited 1 times, 1 visits today)