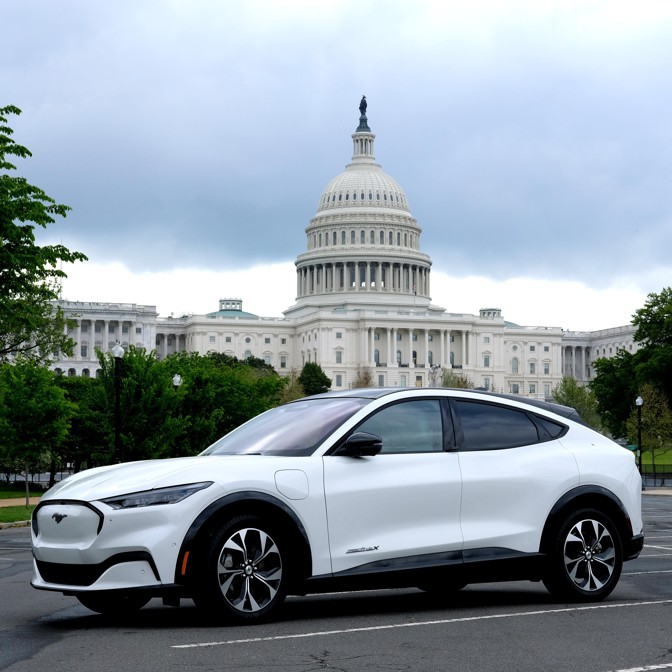 Every week, our lead climate reporter brings you the big ideas, expert analysis, and vital guidance that will help you flourish on a changing planet. Sign up to get The Weekly Planet, our guide to living through climate change, in your inbox.
The Ford Mustang Mach-E is, at first glance, what a new car is supposed to be in 2021. On the outside, it borrows iconic Mustang styling for a family-friendly but sporty crossover, the fastest-growing car segment in the United States. On the inside, it takes after Tesla's Model 3, with a full-body moonroof and a glowing screen, larger than an iPad, mounted in the dashboard. And underneath, it's all electric, offering 480 horsepower, 305 miles of EPA-estimated range, and zero greenhouse-gas emissions. With essentially instantaneous acceleration, a smooth ride, and a roomy back seat, it's ideal for young families and adventurous retirees—
Wait—is this a car review in The Atlantic? No, an august magazine like The Atlantic doesn't do car reviews. This is what we in the biz call an "ideas piece," a story that articulates an important new idea that's changing our world. It will also tell you whether the car is any good or not.
Phew. What's the idea? Well, there are two of them, actually.
The first is that this is an important car—not only for Ford, the fifth-largest automaker in the world by sales, but also for the Biden administration and the United States. The Mach-E aspires to be the first mass-market competitor to Tesla, according to Jim Farley, Ford's CEO. The Mach-E's price agrees: Although a Tesla Model 3 with 263 miles of range starts at $40,190, a base-model Mach-E with 230 miles of range costs $35,395 after federal tax credits. To put it in terms that might resonate with some …read more
Source:: The Atlantic – Best of
(Visited 1 times, 1 visits today)